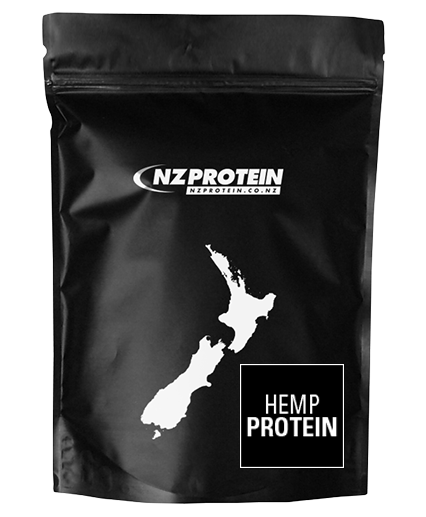 Hemp Protein 1kg
Nutrition Powerhouse. Great For Smoothies and Recipes!
BUY IN BULK & SAVE
Buy 1 for $42.00 Buy 2 for $82.00 Buy 3 for $111.00
Hemp protein powder is a plant protein and nutritional powerhouse! It's a rich source of protein, essential omega fatty acids, dietary fibre, minerals, antioxidants and phyto-nutrients that can benefit your health.
It's organic, vegan, alkaline, and naturally free of gluten, dairy, soy, and other allergens*. It has a pleasant earthy nutty taste, and makes a great smoothie base. It also works well in recipes such as muffins, balls, cookies, bars and desserts, or any other application that boosts protein intake.
Hemp protein is made by milling pressed hemp seeds into a fine powder and is sold with varying protein content depending on the level of milling and extraction.
Hemp seeds are free from THC and legal in New Zealand. See the Certificate of Analysis below.
The Best Hemp Protein Powder
The best hemp protein powders balance high levels of protein with the healthy fats and nutrients that hemp is renowned for.
Hemp seeds are typically refined to powder with varying ~50%, ~60%, and ~70% protein content. Our product has a protein content of ~60% as we feel this is the best balance between maintaining high levels of protein with omega fatty acids and nutrients essential for function and growth.
Don't choose a hemp protein with ~50 or ~70% protein levels! The hemp powders with higher ~70% protein content achieve this level by removing most of the good omega fatty acids and essential nutrients, and the ~50% varieties lack the level of amino acids needed to be considered a quality source of protein.
Please note that this product is processed in a facility that also handles milk, egg, soy, peanut, and gluten ingredients.
---
Rated
4.76
/
5
Based on
45
customer reviews.
I'm not particularly an expert but tastes fine when I combine with berries. Like the fact I can get an easily accessible non dairy product
Amazing fast delivery.
Great product great taste
An amazing organic plant based protein!!
Lovely creamy hemp protein powder. Great that is organic, and the flavour is true hempseed. I've used a few and this is right up there at the top.
Great product, plant proteins I feel require a special taste buds i don't have :) even been vanilla takes abit to get use too... I have found mixing a scoop with my normal NZ protien shake I can handle it, but not on it's own. Just me maybe. I use it every second day with my normal shake. With good omega's it works for me.
Excellent product...and good to have a flavored version now too!
I love this protein powder. It adds a delicious taste to our breakfast smoothie and helps keep us fuller for longer. It mixes in easily with the rest of the ingredients and does not clump.
Tiny bit sweet for me but the texture and flavor is really good!
I mainly use in smoothies or with my weetbix. Nice flavour and not too gritty, goes smooth quick. Haven't tried on it's own, but would say it'd be ok for that if you were training, except protein amounts are less in Pea/Beef ect. I'll be buying again
Choice
Awesome service. Product arrived within 2 days.
Makes me feel great!
Great taste. blends well. And the delivery time was astonishing. Ordered one day, on door step the next day.
Super smooth, mixes well into yoghurt and not too strong tasting.
Excellent product! Tastes great and keeps me fuller for longer!
Very good product and service
Nice easily dissolvable protein.
Doesn't leave me feeling bloated and heavy like the whey.
Cheers!
The vanilla hemp protein powder is delicious and mixes so easily. Mixing it with yoghurt makes the tastiest dessert!
Very happy with the product, I bought pea protein many times before and never happy with the flavours, I sich to Hem protein and I love the test and how good it mix with milk and yogurt.
If you looking for a plan base protein, I recommend this one as it has lowers sodium that pea protein.
The best animal-free protein for sure
Great value for money. Not an overpowering flavour compared to other brands. Looking forward to the vanilla flavour dropping:
Very quick service!
Great product!
Thank you!
A nice nutty taste, like LSA, and my skin didn't react to it like other proteins!
This is the best tasting, best value hemp protein I have ever tried. It's even ok blended in just water with nothing else. This is my staple protein now. Can't reccomend enough
Not bad
Probably good for me but doesn?t taste great
great
Good
Great plant protein, the taste in my usual berry smoothie is great, no graininess at all - unlike pea proteins....I really like that there's no artificial sweetener (or stevia, thank goodness) in it either. The Whey Isolate recently seems exceptionally sweet, perhaps they slipped when adding the Sucralose, the Hemp protein tastes more natural, not messed with! I'll definitely buy again, this is going to be my regular protein.
Id recommend not drinking it by itself, I tried with almond milk and water, its not too hard to get down, blend easily. just taste like blended grass. With smoothies its good!
This goes well with soy milk and almond milk. Adds a great nutty flavour! Will be ordering more.
On recomendation I have tried the Hemp Protein, and while the taste is different it is agreeing with me more than the Pea Protein.
Its only been a week, but I have already noticed a differnce in how I feel each day.
Huge fan of anything hemp great taste easy mix how bout a flavour tho is that pos
Have only been using this product for a few months in combination with whey protein. It mixes well into a smoothie and seems to be a powerhouse of nutrients and keeps me feeling full and not needing to snack between meals. I shall continue to use Hemp protein as well as Whey protein.

NZ Protein offers a brilliant delivery service - can?t be beaten!!
Based on the reviews I didn?t have super high hopes but I actually really enjoy it! I use it for smoothies :)
Great product good price quick delivery would purchase again
I was so impressed with this protein! I was looking for a cheaper protein as I go through it quite quickly and for 1kg of hemp at only $45 including shipping I was sold! I personally haven?t enjoyed the taste of hemp in the past and was a little concerned that with it being unflavoured and not sweetened etc that it would taste gross. But nope! I can hardly taste it in my smoothies and tastes nice in my porridge. Absolutely love this product! And not gritty at all. Will be buying again!
I use this in baking and in my morning smoothies and I really like the nutty taste of hemp. This is definitely the best deal I've found for a kilo of the stuff with a good protein percentage.
Fast delivery, good service
Tastes a bit green but that is to be expected. Very nice when mixed with berries.
Amazing Protien with perfect omega 3-6-9 profile!
Really good Organic Hemp Protein Powder!! Great consistency and neutral taste for smoothies etc!
Great product.
Has a natural nutty flavour, mixes really easy.
Is a little grainy which is normal for Hemp Protein powder.
I mix it with the Pea Protein.
Very easy to consume.

Very very fast delivery as usual.
This is the best hemp protein that I have found so far in NZ. I have tried a few others and the macros of this one, and the price, are good. For people wondering of the flavour, to me, it tastes like ground oats added to milk, perhaps a tad nuttier and earthier. The main benefit is the digestibility; it provides no bloat for me unlike whey protein.
Thought I?d give hemp protein a go as an alternative to whey. In the 3 weeks I?ve been using it I?ve found it to be really good. My Stomach feels less bloated than when using whey protein. Texture is smooth however the flavour is a shocker (very earthy!). I recommend adding it to a smoothie. I add banana, frozen berries, honey nz protein super foods powder and some almond butter and blend it with water. Would be nice if it came with an added flavour.
Click on a flavour to see the nutritional information.
Serving size: 31.25g (2 heaped scoops)
Servings per pack: 32
| Name | Ave Quantity Per Serving | Ave Quantity Per 100g |
| --- | --- | --- |
| Energy | 556kJ | 1779kJ |
| Calories | 133 | 424 |
| Protein | 20.2g | 64.6g |
| - Gluten | 0g | 0g |
| Fat - total | 5g | 15.9g |
| - Saturated | 0.6g | 1.8g |
| - Total Omega Fats | 4.2g | 13.4g |
| Omega-3 Fatty Acids | 0.7g | 2.2g |
| Omega-6 Fatty Acids | 2.7g | 8.7g |
| Omega-9 Fatty Acids | 0.8g | 2.5g |
| - Trans Fats | <0.01g | <0.02g |
| Carbohydrate | 4.3g | 13.7g |
| - Sugars | 1.8g | 5.7g |
| - Dietary Fibre | 2.4g | 7.8g |
| Sodium | <1mg | <1mg |
| Calcium | 27mg | 88mg |
| Potassium | 512mg | 1640mg |
| Iron | 6mg | 18mg |
Ingredients: Organic Hemp Protein Powder
Serving size: 31.25g (2 heaped scoops)
Servings per pack: 32
| Name | Ave Quantity Per Serving | Ave Quantity Per 100g |
| --- | --- | --- |
| Energy | 566kJ | 1769kJ |
| Calories | 135 | 422 |
| Protein | 19.8g | 62g |
| - Gluten | 0g | 0g |
| Fat - total | 4.9g | 15.3g |
| - Saturated | 0.6g | 1.7g |
| - Total Omega Fats | 4.1g | 12.9g |
| Omega-3 Fatty Acids | 0.7g | 2.1g |
| Omega-6 Fatty Acids | 2.7g | 8.4g |
| Omega-9 Fatty Acids | 0.8g | 2.4g |
| - Trans Fats | <0.01g | <0.02g |
| Carbohydrate | 5.4g | 16.8g |
| - Sugars | 1.8g | 5.7g |
| - Dietary Fibre | 2.4g | 7.5g |
| Sodium | 1mg | 7.5mg |
| Calcium | 27mg | 84mg |
| Potassium | 504mg | 1574mg |
| Iron | 5.5mg | 17.3mg |
Ingredients: Organic Hemp Protein Powder, Flavour, Sweetener (Sucralose)
(mg per serving - unflavoured)
Branched chain aminio acids:
| | |
| --- | --- |
| Isoleucine | 730 |
| Leucine | 1220 |
| Valine | 920 |
Other essential aminio acids:
| | |
| --- | --- |
| Lysine | 640 |
| Methionine | 460 |
| Phenylalanine | 830 |
| Threonine | 640 |
| Alanine | 770 |
Non essential aminio acids:
| | |
| --- | --- |
| Histidine | 520 |
| Arganine | 2510 |
| Aspartic Acid | 2020 |
| Cysteine/Cystine | 260 |
| Glutamic Acid | 3310 |
| Glycine | 800 |
| Proline | 630 |
| Serine | 960 |
| Tyrosine | 630 |
| Hydroxyproline | <100 |
| Ornithine | <100 |