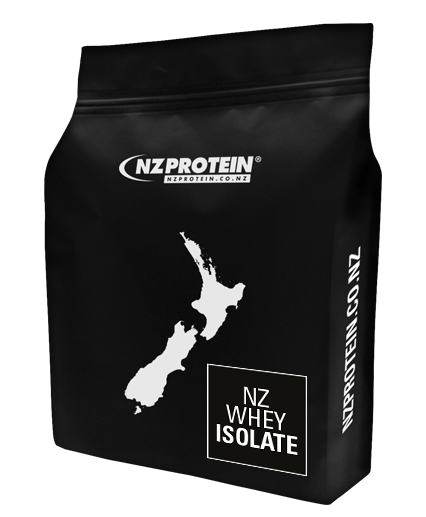 NZ Whey Isolate 1kg
Fast Digesting and Ultra High Protein From Grass Fed Cows.
Premium Ion Exchange Whey Protein that's Made in New Zealand From Grass Fed Cows
NZProtein's Whey Isolate has more protein and virtually no fat, carbohydrates, or lactose, and is specially formulated to be readily absorbed and utilised by muscles.
It's packed with Branched Chain Amino Acids (BCAA's) and other essential amino acids to support lean muscle growth and improve recovery.
Each serving (of Gourmet Vanilla flavour) contains nearly over 28g of protein, 7.4g of BCAAs, and virtually no fat, carbohydrates, or lactose. There are no added fillers, thickeners, or other agents either.
Clean
New Zealand made whey proteins are considered to be the cleanest in the world because the dairy cows that produce the milk used to create this product are naturally grass fed - not factory farmed, and the NZ Government has banned the use of antibiotics and hormones in the milk that is used to create this product.

Taste and Mixing
Whey Isolate has a light fluffy texture because it contains virtually no fat. It has a clean taste. Due to the nature of this product, it mixes best in a handshaker without using an actuator or mixing ball.
And
- 5g of glutamine & precursors per serve
- Laboratory formulated
- Manufactured to strict New Zealand food safety standards
Suggested Use
Consuming high quality protein at regular intervals throughout the day can encourage a positive nitrogen balance, aid recovery, and help to increase metabolism.
Depending on your nutritional requirements take 1-3 servings daily at breakfast, between meals, post workout, or before bed.
Please note that this product is processed in a facility that also handles egg, soy, peanut, and gluten ingredients.
---
Rated
4.81
/
5
Based on
263
customer reviews.
Seems fresh and easy to mix.
Love it!! Can mix it with water or milk and it still tastes delicious
Love this product. On my second bag
Yummy very chocolatey taste and texture is good. Cheapest clean Whey Isolate I have come across and it's yum. I will continue to buy this product.
Great clean taste
Tastes great, and mixes much better than my previous powder. Great value for money too.
Tastes great and I love that it is low carb!
Hi, fast delivery and very pleased with the product I purchased. I chose the gourmet vanilla and it's delicious. I will be purchasing again.
I've been taking Whey Isolate from NZ Protein for over 3 years now, NZ protein offer a higher amount of protein per serving when compared to other brands in the market, it is lower in sugar and mixes well with water or milk
Great Product. Taste amazing. Definitely my go to protein
Great product, great delivery. Will continue buying!
I have tried many US brand proteins but this one is the better than them. Low in sugar, carbs and cholesterol but great in taste.
Great product! Mixes & tastes very good.
Double chocolate flavour taste like actual chocolate! Really nice!
Have been a fan of NZ Protein's Gourmet Vanilla Protein Isolate for years now - however they've stepped it up a notch with a delicious updated recipe recently - yum. Highly recommend - and supporting NZ :-)
Got both double chocolate and berries. Great taste for both and not too sweet. Comes with a smaller measuring scoop than most brands (2 scoops for 1 serving) which is great! Ordered after lunch and arrived less than 24h later.
Tastes great on its own or mixed into a smoothie. Blends very well!
Tastes good, really quick delivery
The best tasting protein, it doesn't have the yucky after taste other proteins have.
Very clean and lean protein. Not as creamy as standard whey and can feel a bit watery like trim milk. But it's very low in fats do that's to be expected. The gourmet vanilla is nice but very sweet. I would probably opt for natural next time and add my own fruits to sweeten. Still gave it 5 though as it's a good product
Berry taste is disgusting. Just wish I had bought a sample first!
Excellent product, great price
Great tasting and easy to shake
Great flavour and mixes well
Excellent High Quatity Protein compared to other Brands on the market, especially supermarkets.
Read the labels of others carefully and you will find that it is not as 100% pure Whey as they claim.
It is often made from other protein bases mixed, and far more expensive for less amount.
Your Whey is made from NZ Beef grass fed. Other Brands don't specify this.
Taste great and mixes easily. Would definitely buy again.
Tastes amazing! Love it.
still a great product, very happy :)
Great stuff
Delicious flavour and vanilla goes with everything!
It's so yummy
Very good quality, tastes good and dissolves great.
And good value for money
Tastes great, as it is with WPI, doesn't mix as well as whey, but mixes perfectly in a Nutri bullet.
Great product. Love the taste and how easy it is to mix. Highly recommend.
Mixed Berry 😍
Better than milkshake. I take mine with milk, easy to get down, mixes perfectly. Clean whey that shows results.

Chocolate mixes a little thicker and I struggle to get richer flavors down easily, but it tastes great.

Banana and Lime (when available) great flavors, i like to buy the mini sachets to change up flavor sometime and its nice to know that all the flavors are authentic. Good to have a trustworthy quality driven supplier.
First time with a whey product. I find difficult to mix in water with out lumps but mainly having a tuff time digesting it. Not for me
Good protein,great tasting, mixes well with water or milk.
I love the Whey Isolate, is my go to protein powder and the only one I use. Great if you are watching your fat and carbs intake :)
Great product, taste delicious.
Very good product has to be made in NZ
Great product would buy again
Made with NZ grass fed dairy = Best protein powder in the world
Service and value from NZProtein = unquestionably the best
Love the protein, fantastic taste, texture & price. Will definitely purchase again
No nonsense protein powder, tastes good, no harmful or unnecessary stuff in it.
Good price, great product (no stomach ache after, like with some protein powders), and it arrived the day after I ordered!!
First time trying it, doesnt mix well, very lumpy... not great experience
Super quick delivery and great tasting protein can't wait to try different flavours
Best protein powder! So tasty, good texture
Delicious!!
Always great
Love the stuff tastes real good
Didn't disappoint. I usually get the chocolate but decided to try banana. These are simply the best tasting protein powders on the market. Banana was delicious, no fake sweet taste, just perfect flavour balance. Total yum!
Love the product thank you 💐and great delivery time in level 3
Amasing quality at a very good price. Flavour up there as one of the best for a lot less.
Great product, mixes well and tastes fantastic. Helps me hugely with recovery
Got salted caramel flavour great taste but this flavour does not mix very well ends up with big clumps of white sweet sticky substance left behind in shacker, do not have this problem with banana flavour
Superior taste and mixing to other protein powders. Have tried others but come back to the whey isolate. Easier on tummy too.
Hi
Every thing is alright except the amount of sodium is very high compare to the other brand I used,I wish to see reducticon in sodium otherwise I will be switching back to the optimum nutrition Gold Standard.
Thanks
Fast delivery and a good price too
very tasty, without the often blah aftertaste
Mixes easily
all round a great product
Fast efficient delivery.
I enjoy the protein powder as always
Arrived in good time, thanks for the WPI. Got a free reusable container too.
Great price and yummy taste. vanilla is my fav!
Tastes great, I really like it.
Nice flavor and easy to mix.
100% as usual, thanks team!
Fast delivery and I love the new packaging.
great service
Tastes great!!!! Smooth and velvety. Absolutely love it!!!
Great NZ Made product and top quality #supportnzbusiness
Great product, fast delivery!
Super clean protein, will never purchase anything else. Perfect around sports training, great flavours, goes down easy. Delivery is always insanely fast too!!
Good stuff, tastes nice but doesn't mix very well, always seem to have a few small clumps left at the bottom.
Great product
Great product easy on the stomach
Never disappointed with these powders. Mix really well and they hit the nail on the head with the flavours. Orange choc chip tastes just like the ice cream
I love the flavour of the whey isolate! I dont have much of after taste in this protein powder which is good! I would repurchase this product! Maybe try other flavours too. Also, love the fact that its NZ made and other harmful/unnecessary ingredients in them like other products and have high protein in it, which is what I need for my nutrition and training!
Best tasting isolate I've used, blends easily.
No complaints at all, always buy from NZProtein, very quick shipping as always.
NZ WPI is definitely my go to for a protein hit. I have it on its own after a workout or in a breakfast shake with a bunch of other stuff. I usually buy 5kg at a time to get a discount for buying in bulk.
good quality product
I feel mean giving this only two stars, but I'm just not a fan of the saltiness. I have since mixed one scoop of salted caramel with one scoop of vanilla and it's so much nicer!!
Tastes nice, No gross after taste like a lot of other protein shakes and a real decent price too...got the boyfriend onto NZ protein now too!!
Amazing service and amazing product. Arrived within 24 hours of purchase and tasted absolutely delicious. I've never had such a nice, chocolately whey protein isolate. Usually the flavours aren't as yummy as regular whey protein but this is yum!! Thanks NZ Protein, you have a regular customer in me!
Super taste! Easy to mix! BCAA efect superb. No strained/sore muscles after heavy workout, yet does not build the mass too fast. For building mass I woulddefinitely reommend a different product (mass builder/gainer or probably beef protein). Peace out! Fish
Love this protein powder - mixes perfectly, tasty and does not upset my stomach.
Great taste.
always love NZprotein whey
Tastes real good. Packaging broke when I opened it though, but still a good product
Great. So easy to mix in my yoghurt
Doesn't mix properly with water, the protein separates and the water sinks to the bottom, protein layer on top.
Best taste of the natural animal protein products in smoothies, fully recommend. Not as moist and spongy for pancakes, or baking in general, as casein.
Great value for money, super fast delivery and just a great product. I usually purchase from an Australian company but supporting kiwi business at this time means more than saving a few dollars. Go NZ Protein! 😁✌❤
Wife loves this flavour no complains, not my cup of tea tho
Simply awesome
the Whey isolate is delicious! Easy to mix, easy to drink!
Thanks team!
has become a staple - tastes great and is versatile
My go to protein - it's the one I always purchase.
grate one!
Super easy to mix with no residual pulps, great taste (literally like a milkshake) and great impact on regeneration/recovery after workout.
Awesome taste and mixes well with water or milk. Also tastes great with fruit. Great price also
Doesn't mix that well and creamy compared to other whey isolate powders i've used - smoothies come out quite icy instead. NZPROTEIN REPLY: we don't add fillers and thickeners to modify the texture. WPI is naturally more watery than other whey proteins. Should mix well - always add liquid before powder.
Mixes well, tastes great, fast shipping and very affordable, I will be ordering more.
Tastes great with almond milk, and in iced coffee. Can't wait to try the other flavours!
Enjoy the flavour, definitely be ordering more!
Love this protein powder, not too sweet , perfect for adding fruit without extra flavouring or sweetness. Love that its got nearly 30grams protein per serve.
Tastes awesome, digest easily and quickly. Will never use another brand again.
Awesome product! I order one pack every other month. Super easy mix, tastes good, doesn't upset my stomach and delivery is super quick. My favourite is vanilla.
Love this wpi. Great bang for buck on protein and not too sweet.
Forgot to add. Amazing customer service and the fastest delivery ever!
YUM! this is the nicest tasting whey protein I have tried. Actually enjoy taking this now and noticing has really helped give me energy. So nice icy cold!
Great taste and great texture and I received the product the very next day during lockdown I'm stoked!
really quick shipping
Easy to digest - really good on sensitive tummies. We use vanilla so we can add to all sorts of smoothies
Awesome product! Grass fed whey, the gourmet vanilla tastes great
Good quality product and has no horrible powdery after taste. Would recommend to all
I have been enjoying this in my smoothies - half and half with the hemp protein. I look forward to having it. Will be continuing to purchase.
Nice taste, great protein 👍
Excellent product, helps maintain bone health for one who at risk of bone issues
Tried lots of Protein but after having it couldn't eat regular meal but Whey Isolate(Unflavoured) is awesome love it.......Thanks Protien.co.nz
Great as always, my go too.
Great quality, amasing price.
Awesome product! Grass fed high quality whey. I don?t get digestion issues with this
Received an email 9 minutes after ordering to say it was ready for distribution! Delivered before 9am next morning! Impressive, as I live rurally. Love the double chocolate. Thanks
Love that there is no lactose!!!

Great flavour, easy to mix and easy on my stomach as well.
Fantastic product and great service...again. thanks.
Tasty and low in carbs and sugar. Speedy delivery too!
Taste, quality, and delivery excellent as per usual - thanks guys :)
Great protein.
Mixes well and the flavour isn't overbearing or sweet like most other brands.
Great taste, value for money and the service is always fast.
Great tasting protein powder and love that its higher in protein. Love the Salted Caramel
Really enjoyed this as it tasted natural and had no artificial sweeteners in it. Did not taste grainy or chalky in any way. It can get a bit clumpy when I'm putting it in porridge but think it would be fine in a shake.

Would recommend :)
Excellent service and excellent product
The salted caramel flavour is not nice, it tastes very artificial and smells awful too. There was a noticeable bitterness. It could just be this flavour thats no good. I'm happy to trial other flavours before giving up. This mixes well in my greek yoghurt, dissolving completely. It tasted nice in my bliss balls as the flavour was mostly disguised by the other ingredients. I'll see how it goes in banana smoothies.
High quality proteins and easy digestible . Love the Gourmet Vanilla flavour
Good flavour. Mixes well.
Great delivery time.
Its light, mixes easy and tastes good. As always, speedy delivery. Thanks team.
Mixes well and has a nice taste. Prompt delivery. Great service
Good taste, low cards.
Speed service. Ordered on Friday at midday and received product in Kerikeri Saturday morning. Outstanding service. Products very good. Would like to see al-carnatine and beta alinine options available.
Use this daily & love it
Tastes good, mixes easily
I find this splits when you blend it and when you shake it in a shaker it diesnt mix properly. Maybe I'm doing something wrong ?
No bad after taste though
First time trying nz protein and it's really delicious. Will be buying through you again.
love the product - love the super speedy service too
Great product
Great product
Love this product, and have recommended to my pt clients too. Fast service too
Dissolves easily. Next time I will get a flavour as the unflavoured is a bit blaa. Amazing service!
Great taste. Lighter feeling to drink than others.

Will buy again
Great product, extremely quick delivery
Easily the best product on the market
Love this product.
Have tried a few American brands but always come back to this great tasting NZ whey. There is just no comparison really.
Seems like the formula has changed. Protein doesn?t mix as well as the last batch I bought resulting in a powdery mix. NZPROTEIN REPLY: nothing has changed...
Tastes amazing. Doesn't taste like a whole bunch of chemicals. Mixes with ease.
Tastes amazing, very high in protein compared to other protein powders I have tried because they include nasties and it was recommended to me by a personal trainer herself as she uses this product
Love using this product, mixes easily and tastes great. Reccomend to my clients
Great product. Great flavour. Got a mate on it now too. Cheers.
Nice flavour
Clean, easy, and tastes great. Good price and service!
Great price and fast delivery. Mixes easily, tastes much better with milk instead of water, the chocolate has a natural flavour that is not too sweet, I would purchase this product again.
Easily mixed, awesome flavour, perfect way to increase your daily protein intake. Kia ora lads and ladies
Amazing product arrived super quick, cheers for that guys
EXCELLENT PRODUCT
Best protein powder and value for money, fast service
Tastes great! Used it in nut protein bars which worked great! Will try a different flavour next time.
10/10 As always! Great taste, easy mixing, good quality and price :) Thanks!
Got the banana whey isolate and it's amazing! Tastes like a banana milkshake. It's good with any sort of milk, e.g. I drink it with unsweetened Cashew or unsweetened almond and the taste is pretty much the same.
Gourmet vanilla protein isolate - best tasting best quality protein powder in NZ
Great tasting.will purchase again
My order arrived the following day, and I live rurally! Love the Berry protein powder. It has a very pleasant taste, not too sweet and not too strong - perfect!
Great product if you?re lactose intolerant
Great product & super quick shipping!
Love it
It was for my daughter who goes to the gym 5 days a week she has found it is really smooth and delicious and great for her training and will buy again.
NZ Proteins Whey Isolate is brilliant. I have been using it for over a year now and would never change back to other international brands. Smells clean and taste even better. I find it a great way to increase my protein intake on training days without the added nastys. Delivery is also super efficient. I'm in Christchurch and see my order from Auckland within two days max sometimes sooner. Great products and service, thanks team!
Mixes well, not to sweet, and great quality protein!
Really good product, mixes real well and easy to drink.
love it. use it everyday. tastes fab
Nice tasting, easy to mix and gentle on the stomach
Love this product! Tastes great, good levels of protein
works well have used it for a while now, recommended
Great, fast deliver, good quality product. Love it, thank you!
Excellent
Love this whey isolate.
Love this product, has helped a lot with my fitness journey and the taste is amazing compared to others I have tried. Love that?s it?s a New Zealand made product as well
Great product- alwats super speedy service !!
Nice taste. Value for money. High quality amino acids well manufactured.
These guys deserve an award. Super speedy delivery. Ordered at 2pm and delivered next day 9 am to wellington
Amazing service + great quality product
Protein powder is great - when is the berry flavour coming back!
Thanks :)
Tasty, but difficult to mix.
Awesome product, tastes great, well packaged and delivered quickly!
I love this product. It tastes soooo yummy
Good protein however if you put two scoops hard to dissolve in the water. NZPROTEIN REPLY: ADD MORE WATER
I wite enjoy it given its my first time trying protein shake, it's a little bit too sweet but it is quite filling.
Awesome
Excellent pure protein supplement
Fast delivery, awesome taste, good result. Highly recommended
Awesome product
Sweet as
Best taste.
Best mixability.
Best to stack with a whole lot of grosse tasting supplements.
I'm also lactose intolerant, it seems to me that NZProtein Whey Isolate is the only dairy based I can consume without adverse reactions.
I highly recommend this product, and flavour. I'l be coming back time and time again for it.
Oh, and I almost forgot NZProtein also have the best prices and best levels of service. IMHO.
Nice taste, mixes easily.
Amazing, have been using it for three months and loving it
Mixes well and tastes great.
I purchased both the banana and double choc flavours and both are great. They mix well into both liquids and food such as yoghurt and oats. There's no sickly sweetness or artificial after taste, they're both absolutely delicious.
Great taste and also a speedy delivery from NZ protein
The protein is good. The only drawback is the taste isn't as good as the whey.
Really great taste, very impressed with the delivery servuce
Fast and effecien
Good product couldn?t fault
Easy and simple to use , no adds crap just the essential
Products are good and easy to order and shipping is super fast.
Love this stuff. Best value and quality. Highly recommend.
Great taste and mixes easy. Not too sweet like the normal commercial Protein Powders.
I'm new to protein powders so have been trying a few. This is the best tasting by far. Will definitely buy again.
.
mixes well, great quality and I really want to give this a five star. But i cant get used to the smell and taste, which come off as too artificial. Still I'm willing to try other flavours, perhaps banana or just go plain.
Great in taste and quality! Love it
Good Taste, Fast Shipping, Perfect With My Almond Milk, No Complaints
As a personal trainer I've tried many protein powders. I love nzprotein it's easy to mix and tastes great and high in protein. Definitely recommending to my clients
Excellent quality protein and very fast shipping
Great product, dissolve very easy with water
Best Isolated whey... pure protein!!!!
Love the flavour
This product is beautifully light and versatile while packing a good protein punch without the sugars. Most importantly, it actually tastes good!
We love NZ Protein. The powders we order are delicious, the service is so fast. Happy as!
Tastes amazing!
Very noticeable reduction in back-end issues compared to regular whey, as someone who has minor lactose intolerance. Very mild taste.
it would get a 5 stars if they used Sunflower lecithin rather than soy. This is the only reason preventing me to use it every day and often. A part from that the taste(chocolate) is really good, mixes well and it does not leave me with stomach upset or cramps as other powders I bought. Overall very good product
I love NZ Protein products and then isolate is just one of them. It's been my whey and isolate of choice for round 4 yrs.

Flavours are great and the team are awesome.

Thanks again for my fix.
Tired a lot of brands and this is honestly the best tasting protein iso I?ve found.
Just want to thank you for your excellent service and awesome proteins. I have been bodybuilding for past 6yrs here in Perth Western Australia originally from Hawkes bay NZ. I have had a lot of different proteins over the years training I must say this is extremely good. I was using true protein as it was the best here in the local market but since having your NZ Protein It's even better on the stomach and recovery after training heavy in the gym. I will definitely be spreading the word here in Perth and at the gyms as I hope you grow your market share as the product is fantastic keep up the excellent work and service.
Best protein i have ever tried
Brilliant protein powder. The unflavoured protein powder mixes in perfectly is so many meals without changin the taste in any way. The only difference is the texture is slightly creamier but that?s still nice in most meals.

I will definitely be getting more of this for my next order. It?s by far the best and most reasonably priced in the market.
Great product all round, tastes best with milk
Best isolate I've tried, mixes easy in a shaker and goes great in smoothies in the blender too, I mix mine with just water and tastes like ice cream, love it!
Top products, exceptional service and beats most similar products on the market. Can't beat being so well priced :) Thanks team :)
I have an allergy to whey. I've tried multiple other proteins. This is the only one I've found which tastes great and doesn't spark up my allergy! As well as my shakes I use it in all my baking too! Love it!!!
Excellent service and nice tasting and textured product (currently using whey isolate protein powder - vanilla flavour).
Just like all the previous reviews a great product and very happy with the results. Also like many others just wished it came in the larger quantities.
Great tasting protein, have tried all the flavours, mixes easy, nothing bad to say at all. Just a shame the isolate only comes in 1kg
Love this protein! Mixes so easily and great taste! My favourite is double chocolate!!
Love these proteins!!! they mix well with oat for morning breakfast, amazing taste!!!
Great proetein that tastes delicious especially the banna flavor!!!
Best isolate protein in town! Vanilla and banna flavor are so delicious and clean!
Great protein, mixes easily and the double chocolate flavour tastes like desset!
Awesome product. Mixes really well tastes amazing. Highly recommend
Amazing taste! Great value for money as well! So many servings per Kg, and there's a really great amount of protein per scoop. Love the taste as well, really light and fluffy. Some of the nicest tasting isolate yet! I just wish they did 2.27 kilo bottles.
I get the unflavoured as it's pure and free from additives, perfect for my cutting cycle. Always delivered quickly and wouldn't go anywhere else
This whey isolate is sooooo tasty, I got the vanilla flavour and it's lovely and light and mixes really well, even with milk and cereal in a bowl - no blender required! No yuck after taste and the powder itself is light and fluffy. Will def buy again!
Not usually a Chocolate flavour fan, but the dark Choc is pretty damn tasty. Doesn't have that plastic-fake-sugar aftertaste that most Chocolate powders have. Mixes well & nice consistency.
Cleanest quality and best priced isolate available in NZ. My future go-to and recommendation. Good work, guys
Fantastic product , great value , taste and mixes well. Service is always fast, the product is great and the prices are unbeatable!
Great powder! Love that there are no fillers or flavours/sweeteners. I'm always happy with the speedy delivery from NZ Protein and you just won't find a better price anywhere.
The dark chocolate flavour is incredible and it mixes well in my shaker without the agitator. Have been using WPI for a few years now and this is the best price I have found.
There is no better place to get protein in NZ, service is always fast, the product is great and the prices are unbeatable! Keep up the good work and i can't see how your company will not continue to grow! (Adam K)
Top quality product, pure protein. Mixes easily with a spoon and the packing is a really good idea. 5 stars,
Fantastic product , great value , taste and mixes well . Highly recommend !!!!
Great idea for the packaging. Really liking! (Tim D)
wow this is def the cheapest isolate that ive seen! thought id try one and its real good. A+ from me
This product gets 5 stars from me as well, I don't care about the packaging as long as it's a good product and I can't find any cheaper isolate so I'm a customer for life. Plus it mixes REALLY well and tastes good too
Great mixability and really great quality. You can tell when you see it. I use this all the time now with fruits or on its own.
Click on a flavour to see the nutritional information.
Serving size: 31.25g (2 heaped scoops)
Servings per pack: 32
| Name | Ave Quantity Per Serving | Ave Quantity Per 100g |
| --- | --- | --- |
| Energy | 505kJ | 1616kJ |
| Calories | 121 | 386 |
| Protein | 28.2g | 90.3g |
| Fat - total | 0.3g | 1.0g |
| - Saturated | 0.2g | 0.6g |
| Carbohydrate - total | 0.9g | 2.8g |
| - Sugars | 0.1g | 0.4g |
| Sodium | 164mg | 526mg |
Ingredients: New Zealand whey protein isolate (contains soy lecithin), flavour, sweetener (sucralose).
Contains: milk and soy ingredients.
Serving size: 31.25g (2 heaped scoops)
Servings per pack: 32
| Name | Ave Quantity Per Serving | Ave Quantity Per 100g |
| --- | --- | --- |
| Energy | 501kJ | 1602kJ |
| Calories | 120 | 383 |
| Protein | 27.1g | 86.7g |
| Fat - total | 0.7g | 2.3g |
| - Saturated | 0.4g | 1.3g |
| Carbohydrate - total | 0.5g | 1.6g |
| - Sugars | 0.1g | 0.3g |
| Sodium | 163mg | 522mg |
Ingredients: New Zealand whey protein isolate (contains soy lecithin), cocoa powder (contains soy lecithin), flavour, sweetener (sucralose).
Contains: milk and soy ingredients.
Serving size: 31.25g (2 heaped scoops)
Servings per pack: 32
| Name | Ave Quantity Per Serving | Ave Quantity Per 100g |
| --- | --- | --- |
| Energy | 503kJ | 1610kJ |
| Calories | 120 | 385 |
| Protein | 27.9g | 89.4g |
| Fat - total | 0.3g | 1.0g |
| - Saturated | 0.2g | 0.6g |
| Carbohydrate - total | 1.1g | 3.5g |
| - Sugars | 0.2g | 0.5g |
| Sodium | 162mg | 520mg |
Ingredients: New Zealand Whey Protein Isolate (Contains Soy Lecithin), Flavour, Natural Colour (Beta-Carotene E160a), Sweetener (Sucralose).
Contains: milk and soy ingredients.
Serving size: 31.25g (2 heaped scoops)
Servings per pack: 32
| Name | Ave Quantity Per Serving | Ave Quantity Per 100g |
| --- | --- | --- |
| Energy | 506kJ | 1620kJ |
| Calories | 120 | 385 |
| Protein | 29g | 93g |
| Fat - total | 0.3g | 1.0g |
| - Saturated | 0.2g | 0.6g |
| Carbohydrate - total | 0.1g | 0.3g |
| - Sugars | 0.1g | 0.3g |
| Sodium | 168mg | 539mg |
Ingredients: New Zealand whey protein isolate (contains soy lecithin).
Contains: milk and soy ingredients.
Serving size: 31.25g (2 heaped scoops)
Servings per pack: 32
| Name | Ave Quantity Per Serving | Ave Quantity Per 100g |
| --- | --- | --- |
| Energy | 504kJ | 1613kJ |
| Calories | 120 | 385 |
| Protein | 28.1g | 90.1g |
| Fat - total | 0.3g | 1g |
| - Saturated | 0.2g | 0.6g |
| Carbohydrate - total | 0.8g | 2.7g |
| - Sugars | 0.4g | 1.3g |
| Sodium | 165mg | 529mg |
Ingredients: New Zealand whey protein isolate (contains soy lecithin), flavour, natural colour (red beet), sweetener (sucralose).
Contains: milk and soy ingredients.
(mg per serving - Gourmet Vanilla flavour shown)
Branched chain aminio acids:
| | |
| --- | --- |
| Isoleucine | 1780 |
| Leucine | 4030 |
| Valine | 1580 |
Other essential aminio acids:
| | |
| --- | --- |
| Lysine | 3160 |
| Methionine | 680 |
| Phenylalanine | 1070 |
| Threonine | 1490 |
| Tryptophan | 680 |
Non essential aminio acids:
| | |
| --- | --- |
| Histidine | 560 |
| Alanine | 1610 |
| Arganine | 850 |
| Aspartic Acid | 3530 |
| Cysteine/Cystine | 1130 |
| Glutamic Acid | 4960 |
| Glycine | 510 |
| Proline | 1270 |
| Serine | 1270 |
| Tyrosine | 1180 |