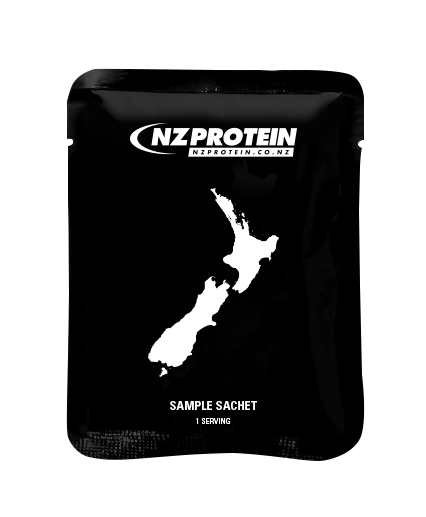 NZ Whey Isolate Sample Sachet
Premium Whey, Refined Further to Remove Fat & Lactose.
This product is ultra high in protein and very low in carbohydrates and fats. It has more of a naturally watery texture than the regular whey protein, and we don't add any fillers or thickeners to modify this.
Whey Isolate is best suited for those who suffer from lactose/digestive issues from milk (depending on the individual), or those who demand the absolute highest level of protein and lowest carbohydrate/fat level.
Due to the nature of this product, it mixes best in a handshaker without using an actuator or mixing ball.
Not sure which flavour shake is for you? Double Chocolate or Gourmet Vanilla? Banana? Each sachet contains one serving (31.25g). Click on the "VIEW NUTRITIONAL INFO" button for nutritionals and mixing instructions.
Supplement Information
For more information on our Whey Protein Isolate click here.
Please note that this product is processed in a facility that also handles egg, soy, peanut, and gluten ingredients.
---
Rated
4.72
/
5
Based on
18
customer reviews.
Really liked it.

Doesn't taste chalky. Would love to sample the banana one and other flavours too before purchasing 1kg pack.

Love that WPI is low carbs compared to the other products.
I've tried the Double Choc and the Gourmet Vanilla and they were sooo yum!! I'm not much of a choc fan so Gourmet Vanilla was my fave of the two. Mixes easy, I just added water and ice and shake was yum!!
They taste so yummy. Love the ice cream
This is the 2nd time I have ordered this and I really like it. I use it rarely so prefer these sample packets. Thanks for a great product.
Lovely taste but was a little hard to mix in a shaker
I really enjoyed this product and will buy more. I don't use it very often but it is really good to have on hand for times when I need a quick meal on the run.
So good. Great flavour, sample sizes are really good to try flavours out too😊
Such a great way to 'try before you buy' and delivery was so quick!

I ordered vanilla and chocolate, chocolate was my favourite but both were nice. Texture was surprisingly creamy with just water.
Tastes great, easy to mix and love that the lactose has been removed.
This is one of the best protein isolates I have tried to date. Great taste and mixes easily! Also being able to test the supplements via these trial sachets is so helpful. Definitely would recommend.
Love it the best flavoured protein I have used, and low Carbs! ideal for supplement to Keto.
So good being able to try a sample size sachet before committing to a big tub. Will definitely be ordering when my current protein powder runs out.
AMAZINGLY quick delivery and really great product, love that you can "try" before you buy - what a great idea! AND great tasting Whey Protein, the Whey Isolate was also great tasting, but not as thick as the Whey - but they do tell you this in their blurb.
tasty flavours, easy to mix
Good Taste , a bit sweet ,
Became sticky and mushy as soon as I poured a litlle bit of milk or water
after that really hard to stir unlike the NZ WHEY , might work better with blender
It would be good to have Stevia as sweetner instead of Sucralose
NZPROTEIN REPLY: it would not be very pleasant at all if we used Stevia. Try mixing in a handshaker!
My absolute favorite, tastes so good.
Loved the Whey Isolate, tastes great! Hopefully it gets made in the berry and salted caramel one day :)
tastes really good mixed with coconut milk unsweetened and ice and is low carb no sugar so fits my macros nicely