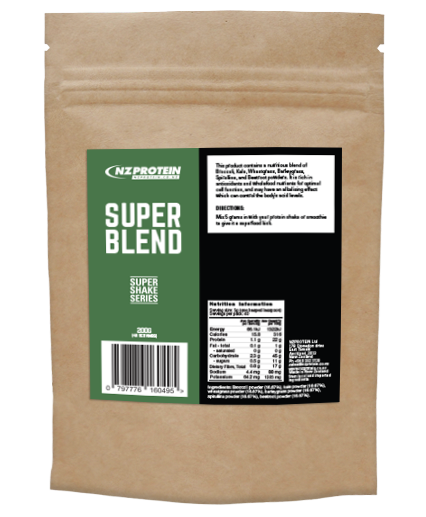 Super Blend 200g
Six Key Super Foods Packed Into One.
This product contains a nutritious blend of Broccoli, Kale, Wheatgrass, Barleygrass, Spirullina, and Beetroot powders. It is rich in antioxidants and wholefood nutrients for optimal cell function, and may have an alkalising effect which can control the body's acid levels.
Directions
Mix 5 grams (one teaspoon) in with your protein shake or smoothie to give it a superfood kick.
Please note that this product is processed in a facility that also handles milk, egg, soy, peanut, and gluten ingredients.
---
Rated
4.75
/
5
Based on
20
customer reviews.
Great product highly recommend.
Easy mixing and great way to get your greens in if you are like me and don't eat vegetables. Only reason it doesn't get 5 stars is the taste, would be great if it could be masked somehow
Great product to add to shakes
as long as its mixed but its also cheaper and better than the Healtheries super greens smoothie booster 120g pack
Great addition to post workout protein, mixes well.
Great addition to shakes and smoothies for that extra vege kick
Awesome product! We add this to our smoothies or even just to water and drink it. Great value!
Great stuff, almost tasteless in a shake/smoothie
GREAT PRODUCT WILL DEF BE BUYING MORE OF THIS
A good value and a Great product, would definitely continue to use!
East andd convenient way to add a boost to my greens intake
Excellent website, easy to order and goods received promptly and I was kept informed of the progress of my order.
Could not be more impressed with what I received from NZProtein and i am making delicious smoothies every morning. Love the Super Blend product.
Great product, highly recommend
I rate this, good product that has the essentials and at a great price. Taste is not the best, but they nevery are. Mix it in a Fruit Smoothie with some BCAAS and your away.
A truly great product. None of THAT AFTER TASTE, will be ordering again soon . Highly recommended
Fantastic product! was given this as a gift from a friend to try out and re-bought this about a month ago and have been using it daily, in my smoothies and even just in water, doesn't taste anywhere as bad as powders as such usually taste which is a definite bonus. Will definitely be buying the product again
Was prepared for this to taste Terrible but couldn't taste it at all in my shake so happy customer here
This stuff is awesome to add into green smoothies - you can barely taste it! Awesome way to sneak more veges into your diet. Plus the price and free/quick shipping is a no brainer - won't use another 'greens' again! Cheers, NZ Protein!
I can appreciate the effort in making a vegan protein supplement. However the taste to me was horrible, but after looking at the ingredients, which are healthy, I find astringent, so no surprise. To each their own.
Ordered this product for the first time because I trust the brand (nzprotein). I've been tempted to buy this product elsewhere but I could not ignore the price. Quality of the product in a shake is delicious. Have to get use to it but it's great. Thank you.
Serving size: 5g (one heaped teaspoon)
Servings per pack: 40
| Name | Ave Quantity Per Serving | Ave Quantity Per 100g |
| --- | --- | --- |
| Energy | 66.1kJ | 1322kJ |
| Calories | 15.8 | 316 |
| Protein | 1.1g | 22g |
| Fat, total | 0.1g | 1g |
| - Saturated | 0g | 0g |
| Carbohydrate, total | 2.3g | 45g |
| - Sugars | 0.5g | 11g |
| - Dietary Fibre | 0.8g | 17g |
| Sodium | 4.4mg | 88mg |
| Potassium | 64.2mg | 1283mg |
Ingredients: Broccoli powder (16.67%), kale powder (16.67%), wheatgrass powder (16.67%), barleygrass powder (16.67%), spirullina powder (16.67%), beetroot powder (16.67%).