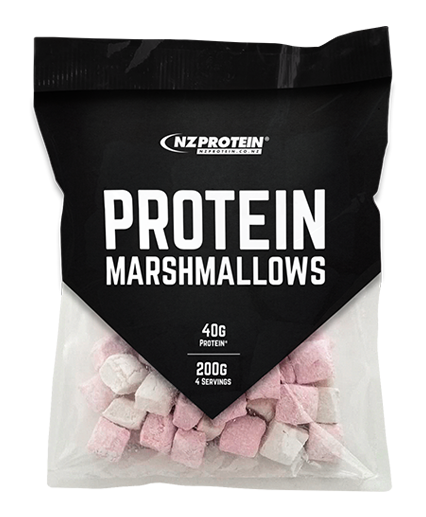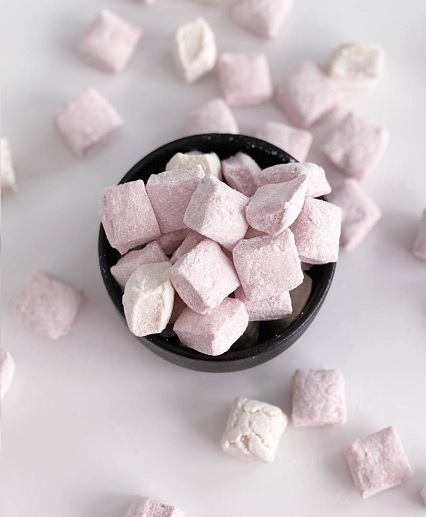 Protein-Mallows
The Only Mallows With Gains
Please note these are a fresh item and have a shelf life of around 3-4 weeks.
Protein Mallows
NZProtein's Marshmallows are just that... high protein marshmallows with hardly any fat or sugar.
They taste awesome and they're ready to eat.
Cravings can be hard to fight but now you don't have to because they're the perfect snack, providing 20 grams of clean New Zealand whey protein per 100 grams.
Since they use our whey so you know the amino acid profile is spot on. Don't hold back because they're the only marshmallows with gains.
Suggested Use
For breakfast
For lunch
For dinner
Between meals
Post exercise
All the time. They're the only marshmallows with gains.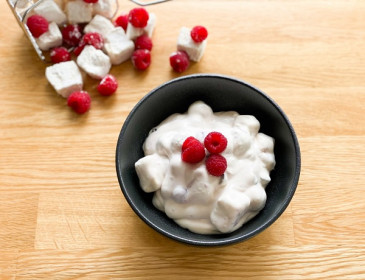 Protein-Mallow Ambrosia
The cheat dessert of the century and a family favourite! But don't stress there is a 'good' version too so pick your poison.
View Recipe
Please note that this product is processed in a facility that also handles milk, soy, tree nut, and gluten ingredients.
---
Rated
4.69
/
5
Based on
80
customer reviews.
I love these marshmallows, the texture is more firm than a regular marshmallow which makes them even better in my book! Amazing to snack on as a sweet treat and also great in my sugar free homemade Rocky road.
The marshmallows were the best have to get some more
Love them. Always have a pack in the cupboard for a sweet treat!
love the taste, when you have one it's hard to stop eating them
Great alternative while on keto. I add to baking and hot drinks!
Yummy. Nice texture. No after taste. Far too easy to eat!!! Not a bad price if you make them last!
Will buy again.
Delicious - covers that sweet craving and tastes delicious
The new recipe is the shizzzzzz!!! Well done team. Cheers
The marshmallows are really lovely tasting and even better they're made with protein. I have used them with baking and they have kept their shape well.
Delicious,sweet,easy to eat. Texture is great.
Delicious! Way better than normal marshmallows. Delivery was amazingly fast too
Hey Team Protein NZ, I think these marshmallows are super tasty and I was very pleased with my purchase.
However, I seem to have a small allergy to something in them, as I got very itchy on the roof of my mouth immediately after eating them.
I do have allergies to things now and again but would love to know if others have had the same experience and if you may know which ingredient may cause allergies.

Thanks,
Sandy
Delicious! Great tasting, I always try out products before listing them on our website and these have been a huge hit!
The best treats for anyone on a Keto food plan. Love them!
great for a sweet treat, low sugar so not spiking insulin and eating a whole bag
Delicious!
DELICIOUS!! Way nicer than ordinary marshmallows
They are so yummy. Closest flavour to regular marshmallows Ive found but denser. I love them and will keep coming back for more.
The protein mallows are better than the supermarket brands. Love them for a Devine treat!
Would love to see some other flavours.
- Chocolate or Banana pleeeeease.
Great tasting marshmallows which really surprised me. I'd definitely purchase again
These are great on their own as a snack or treat, but also work well mixed with other things. I've been adding it with yoghurt and cottage cheese to make a healthy ambrosia. Texture is denser than a standard marshmallow but this just makes them more satisfying.
So yummy, i expected them to have a funny taste but love them!
Nice chew and flavour without the sugar, plus the bonus of protein. A little heavy on the cornflour coating, but I guess you can brush that off.
These marshmellows are amazing! Best textured marshmellows I've eaten.
So tasty I've had to hide them from the kids! Definitely try these
Taste amazing. Better than the other sugar free marshmallows out there, just the texture is a bit different but all in all love these marshmallows
So yumm
If there was an 100 rate it would be 100!! It is amazing and our whole house hold loves it! Wont be stopping anytime soon!
Great flavour! Not a soft marshmallow though, and a lot of powdery something (to keep them from sticking together I suppose) but they do taste good!
Delicious without the sugar! Great for rocky road
Yummy, tasty - reminded me a bit of turkish delight. I really enjoyed these - not marshmallows that you might expect, but actually nicer
Wow. I can't believe these! They taste amazing, delicious and with virtually no sugar and protein. I love these !!!!!
Easy to eat
Love them especially the texture not a fan of normal ones but will def buy these again
Such a guilt free delight. So many uses.
Awesome snack, texture is a little off but perfect protein snack
Great taste and texture, highly recommend
These Mellows are amazing!
Speedy delivery and awesome product!!!
These are amazing! So perfect for a sweet treat without the sugar and carbs
Love these - not as fluffy as 'normal' marshys but perfect for me, as I'm on keto
They really are like a marshmallow. So delish.
For a marshmallow, they are denser than normal, but for a protein hit that feels like a treat they are awesome!
Love this ones is the closest ones to the real ones, without the maltitol. I'm in keto diet and this are amazing for me to make rocky roads and cookies.
Cheers.
I absolutely love these. Part of my ambrosia routine
Really yum
Great product. My 90yr old mother is trying to heal a wound on her arm. We give 5 marshmellows at morning and 5 at afternoon tea - that's 10gms of her target 46 gms protein per day. Great supplement to protein in food and powder.
A really tasty protein treat.
These are so yummy I'm going to have to hide them. My daughter says the flavour of the pink ones are spot on to the original sugar loaded marshmallows of old and the white ones taste just like milk bottle lollies and they do soften in a hot drink. Will definitely be buying these again.
Super fast delivery! Nice product! Will definitely come back for more!
Three packets ...two gone in two days you cannot stop they are so delicious!! Texture wise and flavour is the best!!!
Awesome product!!! Surprisingly tasty and sugary, just what you need with a hot cocoa during winter in the mighty Waikato ❤️👌🙌
Loving these Marshmallows! Firm consistency but delicious. Will definitely buy again.
These are delicious! I've been mixing them into my yoghurt. I was pleasantly surprised because usually protein treats don't taste very nice, these are great!
Read the reviews before purchasing and wasn't expecting much, but these are amazing! Denser and harder than normal marshmallows and slightly different taste, but delicious. These are like the old Pascall's Eskimo lollies (sorry to the Eskimo culture, but don't know any other name for these)
Taste wise amazing ! So nice buying a product that is not full of maltitol or all those nasty chemicals! Would highly recommend and be buying regularly!
OMG, these are so damn good, I'm going to have to purchase 2 packets next time! Would be cool if they came in a 1kg bag :o)
Don't expect these to melt in your hot chocolate! These are a much more solid than the average marshmallow. The flavour is on point though, and make a great sweet treat.
Yummy!!!
These are yum. Really only need a couple as they are sweet. Texture is chewier in comparison to the normal marshmallows but I'm not mad about it. Perfect with a SF hot choc.
Very sweet, and a bit more chewy than your average marshmallow - smaller than I expected too.
Overall a nice addition to our dessert, they softened up a bit after being warmed.
I used them in a keto rocky road, the dark unsweetened chocolate balanced out how sweet these are, so it was a winner recipe!
These are amazing! Dense and so yummy without the aftertaste typical of a high protein product. I've already bought more!
Yum!! Would definitely buy these again. Great treat option
WOW these are amazing me and my partner ate the whole bag I one hit 😋 soooooo good
Pink ones are my fav!
Hah amazing, not even made from sugar love them
The new marshmallows are much better. The pink ones are the best and they're good for my sweet tooth
These has easily become my favourite snack. If I am lacking in protein for the day, or need an afternoon pick me up, these are the best! With all that protein, they are actually pretty filling compared to regular marshmallows. The texture is a bit different but they still taste great. They also are amazing in a hot chocolate. Definitely help curb my sweet tooth!
Kudos to the wizard that came up with this. How they managed to make something taste so good with virtually no fat and low sugar I'll never know.

pro tip: this + the low calorie maple syrup = heaven
Texture is a little bit different to regular supermarket marshmallows but then again there isn't sugar in them so to be expected. The taste is good and I put some of your syrup on - then they're really great. D
The perfect guilt free quick fix for a sweet tooth like mine. High in protein and no sugar
Not quite like a real marshmellow but I good alternative. I liked it with raspberry and white chocolate protein powder mixed with coconut milk to make an instant pudding (it's like a healthier ambrosia)
Can't say I'm a fan. Tastes weird. Expiry date seems to be very short. Wouldn't be able to eat them all in a week.
Wouldn't repurchase. Taste is weird, it's more the awful sweetener taste i can't stand. Just say no to artificial sweeteners. Fitness products shouldn't be so ridiculously sweet. NZPROTEIN REPLY: BUT WOULD YOU RATHER WE USED SUGAR?
Yum. Taste a bit like the old milk bottle lollies - in marshmallow form. Will buy again
For a protein-based snack these taste bloody fantastic! Not quite the same taste as a normal marshmallow but that's to be expected and it's a good way to get that extra protein in!
Best things ever! Kick those sugar cravings right in the bum! Sweet tasty and creamy just like they should be!
Looks and feels like a marshmallow but has a really weird taste that's difficult to put into words but I would describe as a mixture of old beef and sugar. Not even sure if I can eat one serving much less finish the packet.
Amazing!!! Better then normal marshmellows!! Definitely keeping a pack in the cupboard all the time!
Surprisingly amazing taste! Great snack
Serving size: 50g
Servings per pack: 4
| Name | Ave Quantity Per Serving | Ave Quantity Per 100g |
| --- | --- | --- |
| Energy | 506kJ | 1012kJ |
| Calories | 121 | 243 |
| Protein | 10g | 20g |
| - Gluten | 0g | 0g |
| Fat - total | 0.9g | 1.8g |
| - Saturated | 0.6g | 1.3g |
| Carbohydrate | 1.3g | 2.7g |
| - Sugars | 1.1g | 2.2g |
| Sodium | 20mg | 39mg |
Ingredients: Birch Natural Sweetener (967), Whey Protein Concentrate (Contains Sunflower Lecithin), Glycerol, Gelatine, Microcrystalline Cellulose (460), Flavour, Sweetener (Sucralose).
Contains milk. Excess consumption may have a laxative effect.