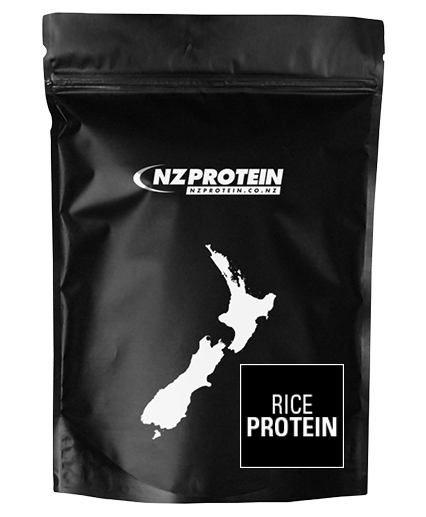 Rice Protein 1kg
Alternate Source that's Easy to Digest and GMO Free.
BUY IN BULK & SAVE
Buy 1 for $35.00 Buy 3 for $93.00
Rice Protein is Hypo-Allergenic and Easily Digested, Ideal for Vegans or Anyone With a Sensitive Stomach
NZProtein's Rice Protein is an excellent alternative for vegetarians, vegans, and anyone with a sensitive stomach - whether lactose intolerant or allergic to dairy. It is carefully extracted from brown rice, resulting in a protein powder supplement that has an excellent amino acid profile, yet low in carbohydrates and fat. And it's GMO free too.
This product is ideal for athletes, vegans, and those seeking a healthier lifestyle:
• Gluten free, dairy free, GMO free
• High protein / low carbs & fat
• Contains all of the essential amino acids
• High in Branched Chain Amino Acids (BCAAs)
• Mixes easily
• No added flavours or sweeteners

Taste and Mixing
Rice protein has a thick texture when mixed and a natural 'grainy' texture. For best results mix in a blender with fruit. Also goes well in baking.
Suggested Use
Consuming high quality protein at regular intervals throughout the day can encourage a positive nitrogen balance, aid recovery, and help to increase metabolism.
Depending on your nutritional requirements take 1-3 servings daily at breakfast, between meals, post workout, or before bed.
Please note that this product is processed in a facility that also handles milk, egg, soy, peanut, and gluten ingredients.
---
Click on a flavour to see the nutritional information.
Serving size: 31.25g (2 heaped scoops)
Servings per pack: 32
| Name | Ave Quantity Per Serving | Ave Quantity Per 100g |
| --- | --- | --- |
| Energy | 502kJ | 1607kJ |
| Calories | 120 | 384 |
| Protein | 25g | 80g |
| Fat - total | 1.7g | 5.3g |
| - Saturated | 0.8g | 2.5g |
| Carbohydrate - total | 2g | 6.3g |
| - Sugars | <0.2g | <0.5g |
| Sodium | 21mg | 68mg |
| Calcium | 131mg | 419mg |
Ingredients: Rice protein powder
(mg per serving - unflavoured)
Branched chain aminio acids:
| | |
| --- | --- |
| Isoleucine | 1220 |
| Leucine | 2630 |
| Valine | 1800 |
Other essential aminio acids:
| | |
| --- | --- |
| Lysine | 1010 |
| Methionine | 950 |
| Phenylalanine | 1830 |
| Threonine | 1190 |
| Tryptophan | 280 |
Non essential aminio acids:
| | |
| --- | --- |
| Histidine | 820 |
| Alanine | 1770 |
| Arganine | 2400 |
| Aspartic Acid | 2830 |
| Cysteine/Cystine | 850 |
| Glutamic Acid | 5640 |
| Glycine | 1380 |
| Proline | 1430 |
| Serine | 2600 |
| Tyrosine | 1600 |