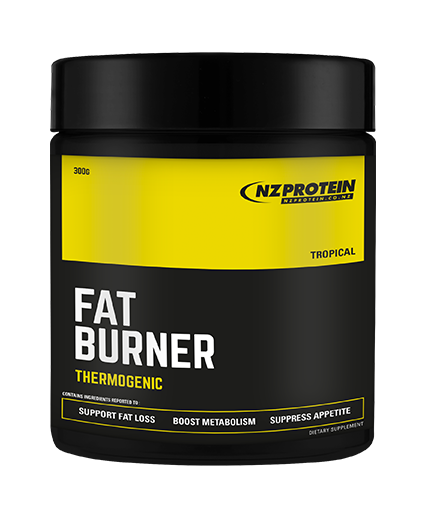 Fat Burner Thermogenic 300g
Thermogenic Fat Loss Supplement With a Big 60 Servings.
Fat Burner NZ
NZProtein's Thermogenic Fat Burner powder is a potent supplement that's formulated to help you get in the fat burning zone in three ways:
By regulating blood sugars, helping to suppress appetite and control cravings
By having a thermogenic effect that increases metabolism and aids fat burning
By increasing energy product to enhance weight loss.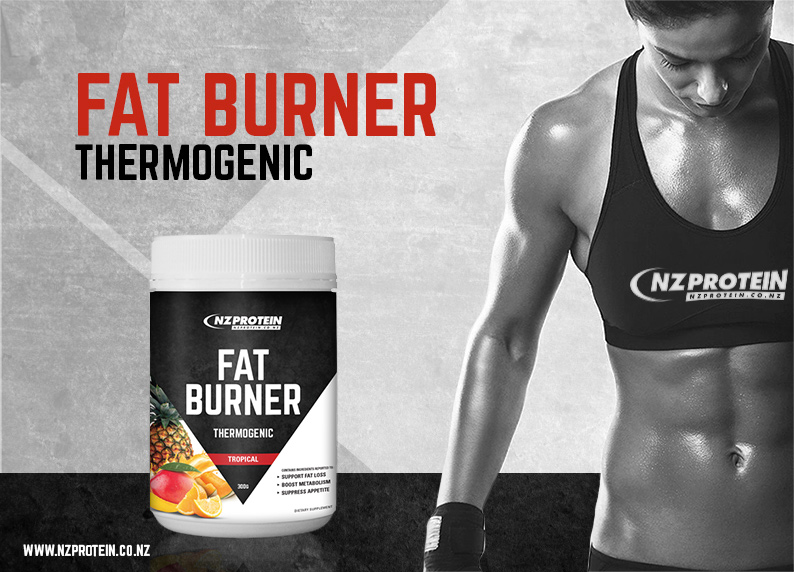 Fat Loss Plan
The key to fat loss is burning more calories than you consume. Combining good nutrition and intense training with NZProtein's Fat Burner supplement can be highly effective for shredding fat and getting in your best shape. It can also help you get there faster by giving you the power to push harder in your workouts.
Maximise the effectiveness of this product by following these steps:
Get a Fat Burning Workout
Just taking a fat burner on its own won't deliver the best possible results if your nutrition and training are lacking. This product can, however, make your journey easier and help to keep you on track.

To get the most out of your fat burner supplement it's critical that you first get on track with an effective fitness programme.
Take Measurements
Record your fat loss expectations but make sure they're realistic. While your rate of fat loss can be enhanced, you won't be losing 5kg a week just because you're using a good fat burner supplement. A practical rate of fat loss is 0.5-1.5kg per week for average, healthy individuals. If you're dropping weight too quickly then you may be losing muscle mass.

Have a starting point - whether you take measurements with a tape measure or body fat callipers, progress photos, or even just your weight on a scale.

Give it a few weeks before assessing progress. Results can vary between individuals but if you find that you aren't seeing the results you'd hoped for after several weeks then it may be worth assessing your training and dietary intake.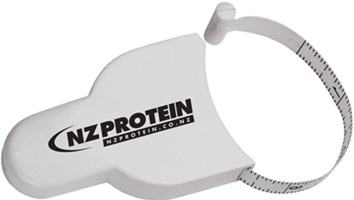 Workout For Fat Burning
Speeding up your metabolic rate results in more calories burnt, and the key to fat loss is burning more calories than you consume. NZProtein's Fat Burner supplement contains ingredients that are reported to have a thermogenic effect that increases metabolism and aids fat burning.

Strength training is another key way to speed up your metabolism. Lifting weights (and proper nutrition) helps build muscle. Muscle takes energy for the body to maintain, so you'll be burning more calories all day. Push your limits - the body adapts so it takes new challenges and heavier weights (progressive overload) on an ongoing basis to develop lean mass.
Fat Burning Foods
Protein is an key ingredient that our bodies require to build and maintain lean muscle mass, critical for losing fat. Common high protein foods include chicken, beef, legumes, nuts and seeds, fish, eggs and protein powders.

It is common to consume up to 1.8-2 grams of protein per kilogram of body mass to help to prevent lean mass loss when energy is restricted for fat loss.
NZProtein's Fat Burner supplement contains ingredients to help reduce appetite levels, which could lead to a lower calorie intake with insufficient protein to maintain muscle. You shouldn't go hungry even when you're on a diet. While you can reduce fat and carbohydrates, even if you're not hungry protein should be consumed (and don't forget your vegetables)! Visualise the physique that you're wanting to achieve - is your body sculpted or flat?

Stay hydrated. Fat burners can help to elevate metabolism and cause you to sweat more. Dehydration occurs with a loss of just 1-2% of total body water and physical performance can be significantly affected by a loss of water.
Drink plenty of water and keep one of our hydrator bottles nearby because higher water intake can increase feelings of fullness which can lead to less calories consumed. Drinking water 30 minutes before meals has been shown to reduce energy intake.

Just be careful with what you drink because some drinks including juices, energy drinks, fizzy drinks, high calorie coffee beverages and other drinks with added sugar won't help with your fat loss goals.
Fat Burning Cycle
The body can become used to some ingredients over time and adapt to the energy-boosting effects of stimulants (such as caffeine) - making them less effective.

Just as you should be taking a break from your calorie-restricted diet in order to prevent a metabolic slow down, you should also use this time to take a break from your fat burners. Even just 1-2 weeks off after 3-4 weeks on can make a big difference in terms of how effective fat burners are for energy boosting purposes.
Sleep Enough
Sleep is important for repair, recovery, and hormone balance. You've heard it before because it's so important: get eight hours of sleep a night.
Studies have found that sleep loss limits fat loss and in general those who slept 7-8 hours per night weighed less and had less risk of weight gain than those reported sleeping for 5 hours or less per night.
Deep sleep is key to a lean and muscular physique. Some people may want to use fat burners to provide them with energy to work out because they're always tired and deprived from sleep. This approach can lead to increases in blood cortisol and decreased testosterone, which will limit and prevent muscle gain and fat loss.
Suggested Use
Mix 5 grams (one scoop) in 200-300ml of cold water in a shaker, depending on desired taste. Take before exercise. To maximise results take a second serving in the morning before food. Do not exceed two servings per day. Adults 18+ only. Not suitable for pregnant or lactating women.
---
Rated
4.54
/
5
Based on
13
customer reviews.
Works well
Like the new packaging
Hello Team ,

I have ordered Whey protein already which i found good.
But this fat burner is hasn't found working at all for me . I am regular gym going person and train hard ( weight lifting and cardio) This hasn't helped me to shed off anything. I am not expecting results without doing hitting the gym and workout but when its called FAT burner it should help to shed of FAT at least ,not aiming or expecting weight loss with this.
I have used other companies FAT burners which has really worked for me.I think i should stick to those which i always use. My friend has recommenced this product which hasn't worked for me.
Taste wise its good but result wise its not up to the mark. I would never suggest this to anyone who wants to shed off fat or weight.Not happy with this product.
Really yum!! I have this in the mornings and I've noticed it gives me an energy boost. Has helped reduce my coffee intake. And I'm not as hungry throughout the day. Highly recommend.
Amazing kick! TBH I only use half a scoop if I workout after 12pm as the buzz is really strong. I add it to my water and sip on it during my workout. It is super thermogenic, so get ready to really sweat!
I am really happy with this product as it also works as pre-workout. And the taste is really nice. Will buy again for sure.
Great taste
THE best tasting product on here, I fill up a whole 600ml big drink bottle with one serve and its great!
My partner and I have been using this for about a week now and so far it's been working amazing! Haven't noticed much change in our bodies but definitely has suppressed our appetite and the amount of snacking we do! Would highly recommend so far on our journey! It also tastes amazing! Quite sweet but so tasty!
It's bloody tasty, effective also, I just bought it bc the preworkout that you guys sell has creatine, but the fat burner as a pre workout works fine
WoW - HIGHLY RECOMMEND - this is awesome before a workout - gives you so much more "get up and go" and not bad tasting. Extremely fast delivery.
Tastes really good and it does the perfect job at suppressing my appetite. I love it!!
just started so no real effects yet. have notice that my cravings for eating is reduced by half of what I usually eat. look forward to seeing the results after the tub is finished
Yummy.
Click on a flavour to see the nutritional information.
Serving size: 5g (one scoop)
Servings per pack: 60
| Name | Ave Quantity Per Serving | Ave Quantity Per 100g |
| --- | --- | --- |
| Cayenne Extract | 125mg | - |
| Garcinia Cambogia (60% HCA) | 200mg | - |
| L-Carnitine L-Tartrate | 1500mg | - |
| Vitamin C | 223mg | - |
| Caffeine | 150mg | - |
| Chromium | 360mcg | - |
| Green Tea Leaf Extract | 125mg | - |
| Tyrosine | 125mg | - |
| Piper Nigrum | 6mg | - |
Ingredients: Other ingredients: Inulin (Fibre), Flavour, Citric Acid, Sweetener (Sucralose). Contains Caffeine.