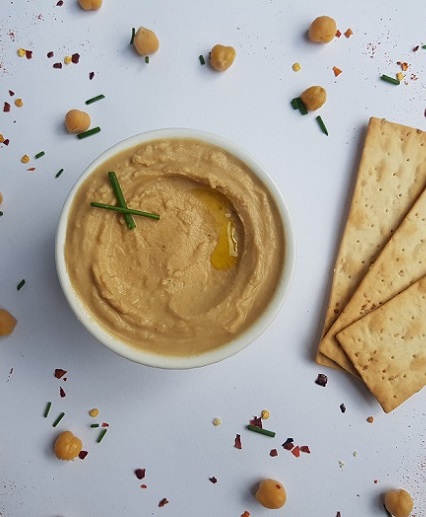 Protein Hummus Mix
Spruce Up Your Bland Diet Food.
Unfortunately due to difficult international shipping we are unable to get any more cooked chickpea flour. We will keep trying.
Protein Hummus Recipe
NZ Protein's Hummus Mix is the perfect recipe for sprucing up your bland diet food. Hummus is a healthy food that goes with just about everything - it makes a delicious dip, sauce and spread.
Think of the regular hummus that you know and love, but with more protein. We've fine-tuned our recipe and this product is so easy to make, it just needs water!
There's 12 serves per pack, each with eight grams of protein from pea isolate. That's huge from what's effectively a dip - so adding it to a meal makes it even easier to hit your protein needs.
At this price why bother going to get all the ingredients and making your own hummus, or why feel guilty about adding rubbish sauces to spruce up your bland diet food when you can use this.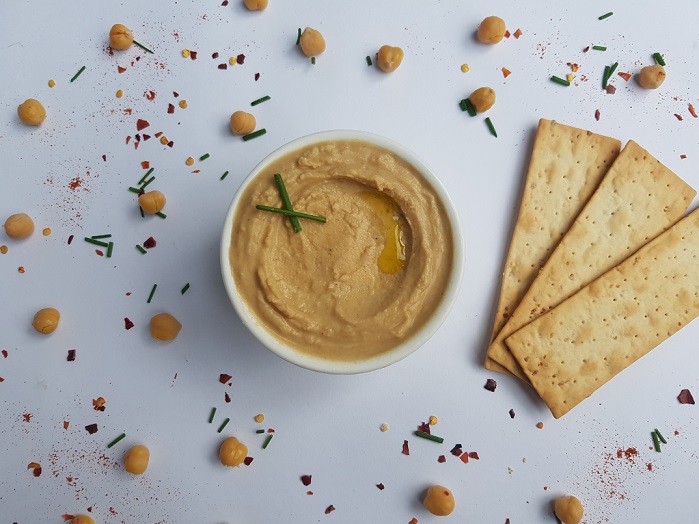 Benefits
Great tasting hummus that's high in protein
Hummus goes with just about everything and it makes a great sauce, spread, and dip
Plant based protein and vegan friendly
Hypoallergenic and easy to digest as the chickpea flour is cooked
Chickpeas are healthy and contain fibre, fatty acids, and minerals
Economical and way easier than trying to make hummus yourself from scratch (let alone hummus with high protein)
Protein Hummus Nutrition
Each serving of our protein hummus has 93 calories and 8 grams of protein from pea isolate, a plant based protein that's easily digestible, alkaline, and slower digesting than whey.
Slower digesting proteins may be beneficial for bodybuilding and long term muscle growth due to the way the body digests amino acids. They can also help you to feel full for longer.
A special blend of spices and lemon ensure that only a clean hummus taste prevails, with no taste from the pea protein.
Chickpeas have a number of benefits for health and bodybuilding. Chickpeas, also known as garbanzo beans, are high in fibre. Fibre is the part of the food that cannot be digested by the body and is important in the maintenance of a healthy balanced diet as it helps to keep our bowels functioning and healthy.
Chickpeas are high in protein that's of a good quality as it has significant levels of all of the essential amino acids. They also contain unsaturated fatty acids and vitamins used by the body for health and well-being.
Raw chickpeas have naturally occurring anti-nutrients but we have imported chickpea flour that's cooked especially for this purpose. Because the chickpea flour used in this product is cooked it's easier to digest.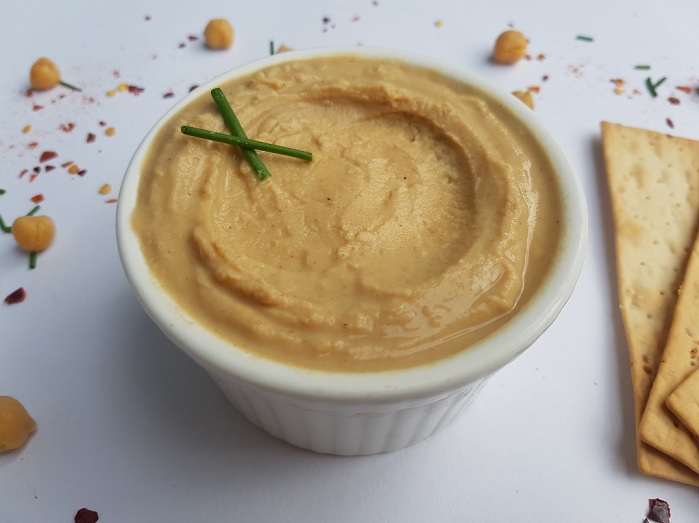 Directions
Add two scoops of our protein hummus mix into a mixing bowl.



Add small amounts of water and stir until desired consistency is reached. Not much water is required.

The ratio should be 1 part powder : 2 parts water.


Store refrigerated and consume within 2 days.
---
Rated
4.31
/
5
Based on
13
customer reviews.
Very happy with this product. Will be perfect to take tramping.
Fantastic concept, this protein hummus was a really great lunch food for me (a vegetarian) on a 4-day hike.
I do think the flavour needs some refining - it was really strong and by day 4 I didn't want to eat any more.
Excellent substitute for the real thing on backcountry adventures.
Overall I am grateful that this hummus powder exists, and I am looking forward to taking it while tramping.

I just wish the chickpeas were cooked well before dehydrating - I could still taste not fully cooked chickpeas in there.

I upped the game by adding lemon powder, dry chilli flakes, garlic powder, and chilli chipotle powder. Much better now :)
Yum! Great for taking hiking 😊
I'm addicted to this hummus. It's easy to prepare and tastes amazing. Not as good as a fresh hummus, but for a powder; whoa, impressive!
We took this in our lunchboxes and it was great with carrots. Really simple to mix together and one serve was plenty for 2 people. It has a great flavour and we added some lemon juice as that is how we like it :)
Will be using for an upcoming hiking trip. Not quite like the fresh stuff but pretty close.
OMG - Was so surprised - this is better than bought stuff from the deli! I mixed with Lemon juice and you can add other flavours or chopped herbs etc!
I was amazed how good this tasted. Good value. Great for tramping etc too.
Best before date was two months after the purchase date so not that impressed given that we purchased the product for back packing. The taste is fine and it is easy to make up therefore suiting our needs. We are mindful that there are few sources for powdered hummus in this country however would appreciate a longer shelf life.
Tastes pretty good. Taking it on a tramping trip - good for a vegan lunch
I was not expecting to like this so much for an instant mix! This mixes beautifully, although as the chick pea flour is very absorbent it need quite a bit of water to give it the right consistency. The flavour is outstanding it has a great acidity and garlicyness. Very nice on rice crackers!!
Serving size: 25g
Servings per pack: 12
| Name | Ave Quantity Per Serving | Ave Quantity Per 100g |
| --- | --- | --- |
| Energy | 388kJ | 971kJ |
| Calories | 93 | 371 |
| Protein | 8g | 31.9g |
| - Gluten | 0g | 0g |
| Fat - total | 1.5g | 5.8g |
| - Saturated | 0.2g | 0.6g |
| Carbohydrate | 9.9g | 39.5g |
| - Sugars | 2.1g | 8.6g |
| - Dietary Fibre | 2.1g | 8.5g |
| Sodium | 127mg | 508mg |
Ingredients: Chickpea Flour (Cooked), Pea Isolate Protein Powder, Cumin, Citric Acid, Salt, Garlic, Natural Lemon Flavour