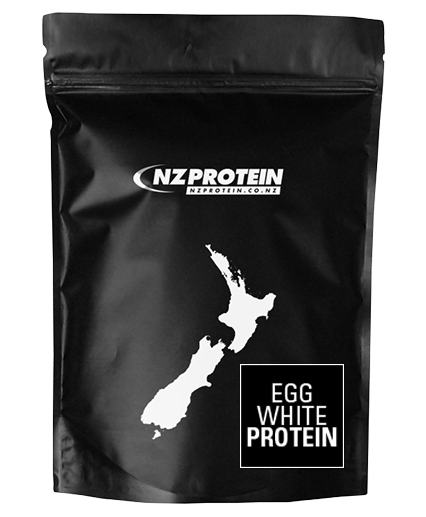 Egg White Protein 1kg
High Biological Value Protein That's Lactose & Dairy Free.
BUY IN BULK & SAVE
Buy 1 for $38.00 Buy 2 for $74.00 Buy 3 for $104.00 Buy 5 for $150.00
High Biological Value Protein that's Lactose and Dairy Free
Pasteurised so it's safe to drink
Economical – 1kg contains the whites from about 260 medium sized eggs
Complete source of protein & contains all eight essential amino acids
Slower digesting (provides a time released protein supply)
Lactose & dairy free
Low in fat & carbohydrates
Quick & convenient

Additional Supplement Info
Two methods are commonly used to measure protein quality – Biological Value (BV) and Protein Digestibility Corrected Amino Acid Score (PDCAAS). BV is a measure of how much ingested protein is actually used by the body. Egg protein scores 100 on this scale. In fact, egg protein is so bioavailable that it represents the BV against which all other foods are compared! PDCAAS measures the 'completeness' a protein, where a value of 1.00 on the scale is the highest measure. Not surprisingly egg protein scores the highest 1.00.
We have gone even further and removed the high-fat, high-cholestrol yolks, leaving just quality, easily digestible protein that's great tasting!
Taste and Mixing
Unflavoured tastes like natural egg whites but it is easy to overcome this when made into a smoothie with fruit etc.
Flavoured mixes better than natural but it is recommended to add liquid before the powder in a shaker. Vanilla mixes with virtually no foam/lumps if shaken well and left to settle for a minute.
Suggested Use
Consuming high quality protein at regular intervals throughout the day can encourage a positive nitrogen balance, aid recovery, and help to increase metabolism.
Depending on your nutritional requirements take 1-2 servings daily at breakfast, between meals, post workout, or before bed.
Please note that this product is processed in a facility that also handles milk, soy, peanut, and gluten ingredients.
---
Rated
4.15
/
5
Based on
20
customer reviews.
Don't know if I got a bad batch or something but the most disgusting tasting powder I've ever tried. Practically inedible! Gourmet vanilla flavour - no resemblance to vanilla here. Tastes like goldfish food, well like how fish food smells. Taste overpowers any other flavour I add to try and disguise it. Will not buy again. Very dissatisfied.
I find it totally satisfactory for my diet
Agree with the below - clumps like chalk, doesn't blend like any of the other powders I've used. I've got the vanilla flavour and it does clump badly. Also as per the previous advice from NZ Protein, I do always add water first, and have tried shaking multiple times, leaving to sit and same result each time. SUPER ANNOYING because otherwise this protein would be ideal. NZPROTEIN REPLY: we have a new egg white since your purchase. This new egg mixes a bit better, is free range, and the price is slightly less!
Clumps like crazy. Trying every method I can but always ending up with massive clums. NZPROTEIN REPLY: add water to the shaker before the powder. Sometimes giving it a good shake then letting it sit for a minute before giving it another shake works well. But water before the powder will help - this can be the nature of egg white protein. The vanilla flavour is better at mixing.
Prompt delivery, good price, and wonderful taste!
Great product
Have been using the egg white protein for some time in smoothies.
It?s tasteless with other flavours and does everything that?s claimed.
Great taste
Both my wife and I love this egg protein. It dissolves well and isn't overly sweet. Been a repeat customer for several years
Superb fast service!!
Great flavour
Mixes well but flavour is too strong. NZPROTEIN REPLY: NEEDS TO BE AS THE EGG WHITE HAS A STRONG NATURAL FLAVOUR TO OVERCOME
Taste is ok, but it way to sweet for me, its like a mouth full of candy
This would be perfect if the egg whites could be sourced from free range chickens!
Tastes alright (vanilla) but its way too foamy. I know that just how eggs are but itd be nice if you could somehow minimize the foamyness.
Fantastic product , great value , taste and mixes well. Service is always fast, the product is great and the prices are unbeatable!
V.good value, not frothy, is my new favourite. I can mix in a shaker ok.
Gourmet Vanilla: seriously delicious, mixes well and value for money. I'm in love!!!
Loving it! So much nicer than the whey...
Hands down makes the BEST protein shakes and protein mousse dessert ever.
Click on a flavour to see the nutritional information.
Serving size: 31.25g (2 heaped scoops)
Servings per pack: 32
| Name | Ave Quantity Per Serving | Ave Quantity Per 100g |
| --- | --- | --- |
| Energy | 494kJ | 1573kJ |
| Calories | 118 | 376 |
| Protein | 25.7g | 82.4g |
| Fat - total | <0.2g | <0.5g |
| - Saturated | <0.1g | <0.2g |
| Carbohydrate - total | 1.4g | 4.5g |
| - Sugars | 0g | 0g |
| Sodium | 387mg | 1238mg |
Ingredients: Egg Albumen (Free Range).
Contains: egg
Serving size: 31.25g (2 heaped scoops)
Servings per pack: 32
| Name | Ave Quantity Per Serving | Ave Quantity Per 100g |
| --- | --- | --- |
| Energy | 502kJ | 1598kJ |
| Calories | 120 | 382 |
| Protein | 24.2g | 77.3g |
| Fat - total | 1g | 3.1g |
| - Saturated | 0.3g | 0.8g |
| Carbohydrate - total | 1.7g | 5.6g |
| - Sugars | 1.4g | 4.5g |
| Sodium | 364mg | 1160mg |
Ingredients: Egg Albumen (Free Range), Emulsifier (Sunflower Lecithin), Flavour, Sweetener (Sucralose).
Contains: egg
(mg per serving - for generic egg white protein)
Branched chain aminio acids:
| | |
| --- | --- |
| Isoleucine | 1700 |
| Leucine | 2900 |
| Valine | 2080 |
Other essential aminio acids:
| | |
| --- | --- |
| Lysine | 2080 |
| Methionine | 1030 |
| Phenylalanine | 1770 |
| Threonine | 1160 |
| Tryptophan | 320 |
| Cysteine/Cystine | 740 |
| Glutamic Acid | 4000 |
| Glycine | 1070 |
Non essential aminio acids:
| | |
| --- | --- |
| Histidine | 750 |
| Alanine | 1810 |
| Arganine | 1670 |
| Aspartic Acid | 3140 |
| Proline | 1120 |
| Serine | 2060 |
| Tyrosine | 1180 |