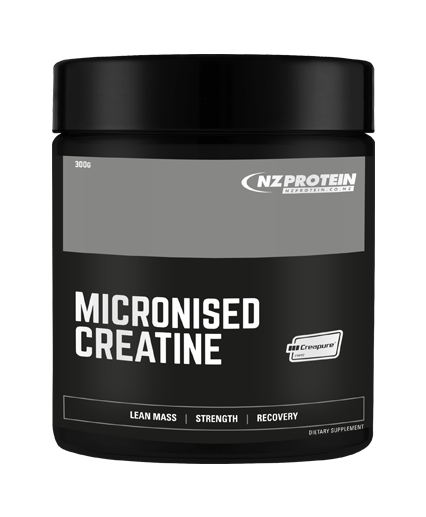 Creapure® Creatine 300g
The Ultimate Creatine for Lean Mass, Strength, and Recovery.
Creapure®: The Ultimate Creatine for Lean Mass, Strength, and Recovery.
What is Creapure® Creatine?
Creapure® is world-renowned to be the purest and best quality micronised Creatine Monohydrate available (99.99% pure). Creapure® has set the standard for Creatine purity, effectiveness, and safety as it is the only Creatine consistently tested to be free from impurities and unnecessary by-products including Creatinine (CRN), dicyandiamide (DCD), Dihydrotriazine (DHT) and Thiourea.
Only Creapure® is produced using a unique patented process to guarantee this standard of purity and potency. Each batch is produced in Germany to Good Manufacturing Practises (GMP) and is rigorously tested using state-of-the art High Pressure Liquid Chromatography (HPLC).
This yields tasteless and odourless micronised Creatine powder that mixes easily into water or juice and does not readily settle to the bottom. As a result, the gritty taste or texture you may have experienced with other similar powders is not associated with this product.
Supplement Benefits
Creatine Monohydrate (Creapure®) supplementation has been proven to increase physical performance in successive bursts of short-term, high intensity exercise.
• up to 15 % increased maximum power and endurance
• up to 20 % additional power with interval training
• up to 30 % power gain and energy release in the short-sprint range
• up to 15 % more for sprint repetitions
Supplement Questions and Answers
Q. What is Creatine?
A. It is a natural derivate of an amino acid produced by the body. It is also found in foods such as red meat and fish.

Supplementing with Creatine increases the amount of free cellular adenosine triphosphate (ATP) available in the body. ATP is a primary energy source that helps with various biological processes including muscle contraction. This energy also helps to fuel high-intensity, short duration exercise such as weight lifting, sprinting, or any other exercise that uses fuel quickly.

This, in turn, may help to improve lean mass, strength, and recovery.

Q. What's the best way to take Creatine?
A. This product is a fine (micronised) powder which mixes easily into almost any liquid. For best results, many people mix it into their pre- or post-workout drinks that contain fast-digesting protein (such as Whey) and fast-digesting carbohydrates. Consuming Creatine this way may create a nearly ideal environment for uptake by muscles, and optimal performance and recovery benefits.*

Q. Is it necessary to load?
A. Although there is evidence to suggest that loading is beneficial for quickly saturating muscles with Creatine, other studies suggest that smaller doses, taken consistently, are able to saturate the muscle cells equally well (though, logically, reaching muscle saturation will take longer). Ultimately, loading is entirely optional.

Q. Is it necessary to cycle?
A. This is also optional. It is worth noting that although the immediate effects of Creatine in enhancing muscular size and strength can be dramatic, the real benefits – supporting the growth of actual muscle tissue – occur in the longer term. As such, it may be best to take Creatine consistently for several months before cycling off.
---
Rated
4.78
/
5
Based on
54
customer reviews.
Doesn't mix that well in just water, but fine in protein shakes
Creatine is creatine but its value for money and produced in NZ. NZPROTEIN REPLY: this one's from Germany but everything is packed here locally. We get NZ where we can but NZ doesn't produce everything.
Awesome product! I had really good strength gains on this product
easy to use, very tolerable.
Juts staring using it and seems to be working well.
Easy ordering process and fast delivery.
Makes me grit my teeth, not something I actually enjoy using as a creamer. It doesn't dissolve that well and isn't yummy. It is coconut based so if you are curious trying a coconut coffee sachet first to get a sense of the taste as it's similar. If I was to use it I'd add in sugar and milk too which defeats the purpose. It's fine in a smoothie though.
Same great product, slick new packaging.
Great Product
It's hard to compare creatine after having only just begun using this brand but, I can comment on the value for money, response and delivery times, ease of interaction and quality of these things overall. I rated 5 stars, there ya go.
Like the new packaging. Product is good, starting this Monday for loading up
Good product, have used this before and will use it again..
Great product and great price. Will continue to repurchase.
flavourless, and next to no texture. definitely worth a try and I will buy again
Good
Great product
Great
Great Creatine!
Dave was super easy to deal with, nz protein delivers quality products and good prices
Awesome
Excellent product, definitely feel a difference, has helped me get stronger after injury.
Great products, very efficient service and delivery, effective business.
Ok mixes well
Great product. Purchased it many times before and will continue to in the future.
Great product
Great product , used it before and will use it again..
Mixes well, great creatine
Notable reduction in body fat since using this and changing nothing else in my routine. Glad I got another order in before the lockdown
Mixes really well, very impressive product. I feel like its made a dif in my training, but now to early to see how much as the gyms have closed for Covd19
Great product and service.
Mixes well. I use 3/4 water an 1/4 apple juice.
Only been a week so haven't seen any gains yet but feeling good on it.
Only just got back on it but previously when I used it it helped.
Got a huge sweat on after taking it. Was amazing
Yes it is great thank you. Got to my door the next day after order nice and quick.
Quick delivery. Reasonably priced. Awesome results. Good taste.
Does what it says. Easy and great quality!
Quality products and insanely fast delivery from Auckland to wellington in less than two days! Cheers NZProtien x
All the gains. Doesn't fully dissolve in water, not sure if its meant to? Doesn't bother me, still easy to drink.
No taste and goes down easy.
Awesome product.
Great product will continue to purchase
Fantastic, love this company and their products!
Always impressed with nz proteins creapure thankyou
Great product.Delivery service is awesome.
Just simple creatine, but does exactly what it needs to!
Good value and mixes well compared to other brands I've tried.
Easy product to use. Tasteless. Lasts a long time.
Love it!! Helps my little frame haha
I'm sure it's a great product, and delivery was fantastically quick but I was rather disappointed that there was no scoop, meaning I have to find an old one that measures up to the right serving.
If you want healthy gains naturally, look no further than this product.
Best value and quality creatine monohydrate I have found on the market so far!
Give it a try!
Awesome product, used with the BCAA and good training programme and diet, biggest I've ever been and just continually growing.
Wonderful product once again from NZProtein! Exceeded all expectations.
Fantastic product , great value , taste and mixes well. Service is always fast, the product is great and the prices are unbeatable!
Great value
Serving size: 5g (one teaspoon)
Servings per pack: 60
| Name | Ave Quantity Per Serving | Ave Quantity Per 100g |
| --- | --- | --- |
| Creatine Monohydrate | 5g | - |