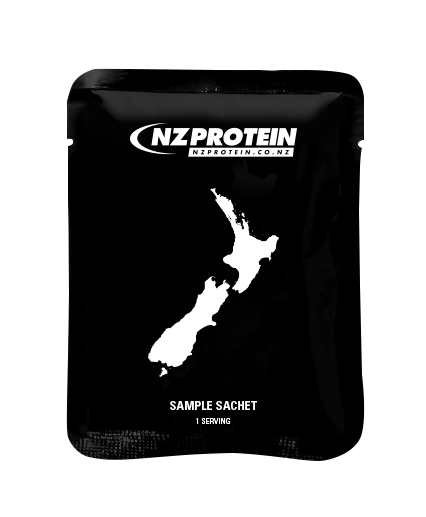 Beef Protein Sample Sachet
Good Alternative to Milk and Pea Proteins.
Beef Protein Powder has a neutral taste, but try our Double Chocolate Flavour - we think it's delicious!
Each sachet contains one serving (31.25g). Just add to ~200ml of water or milk in a shaker. (Remember that it's always best practise to add the liquid before the powder).
Hypoallergenic alternate source of protein to dairy, egg, and pea based sources
Up to 98% protein (unflavoured) with virtually no fat or carbohydrates
Amino acid profile represents beef, rather than typical dairy-based proteins
Mixes easily and has a neutral flavour (Double Chocolate flavour is great tasting)
Easily digested
Complete protein and high in naturally occuring collagen
Promotes growth and recovery of lean muscle
Halal certified
Made in Europe
Supplement Information
For more information on the beef click here.
Please note that this product is processed in a facility that also handles milk, egg, soy, peanut, and gluten ingredients.
---
Rated
4.83
/
5
Based on
6
customer reviews.
I absolutely love this stuff,the sample sachets are great to keep in my bag and work desk. Mixes well and tastes great!!
Surprisingly tasty! I was a little skeptical when it was suggested, but it has a nice taste, doesn't repeat on you and you don't feel bloated after drinking. Will def be ordering in a bigger size :)
I am a huge fan of NZ protein, quick and efficient . I get the sample sachets to carry around in my bag. Love the taste and easy to blend! I have been having it in my coffee and it's been working a treat! Cheers guys
Super tasty and mixes easier than any other protein I?ve used. Would order again!
very nicely flavoured and i like the saltiness too

next time i'd just go with the unflavoured version
I thought I would try this before I went ahead and purchased a large bag of it. I'm loving the profile of this and the super chocolatey ness of it. It is a thinner consistency when mixed with liquid, which it easily does. I went ahead and got the big bag too since this is such a great alternative, with no milk products!! Thanks guys for such a great product at awesome prices